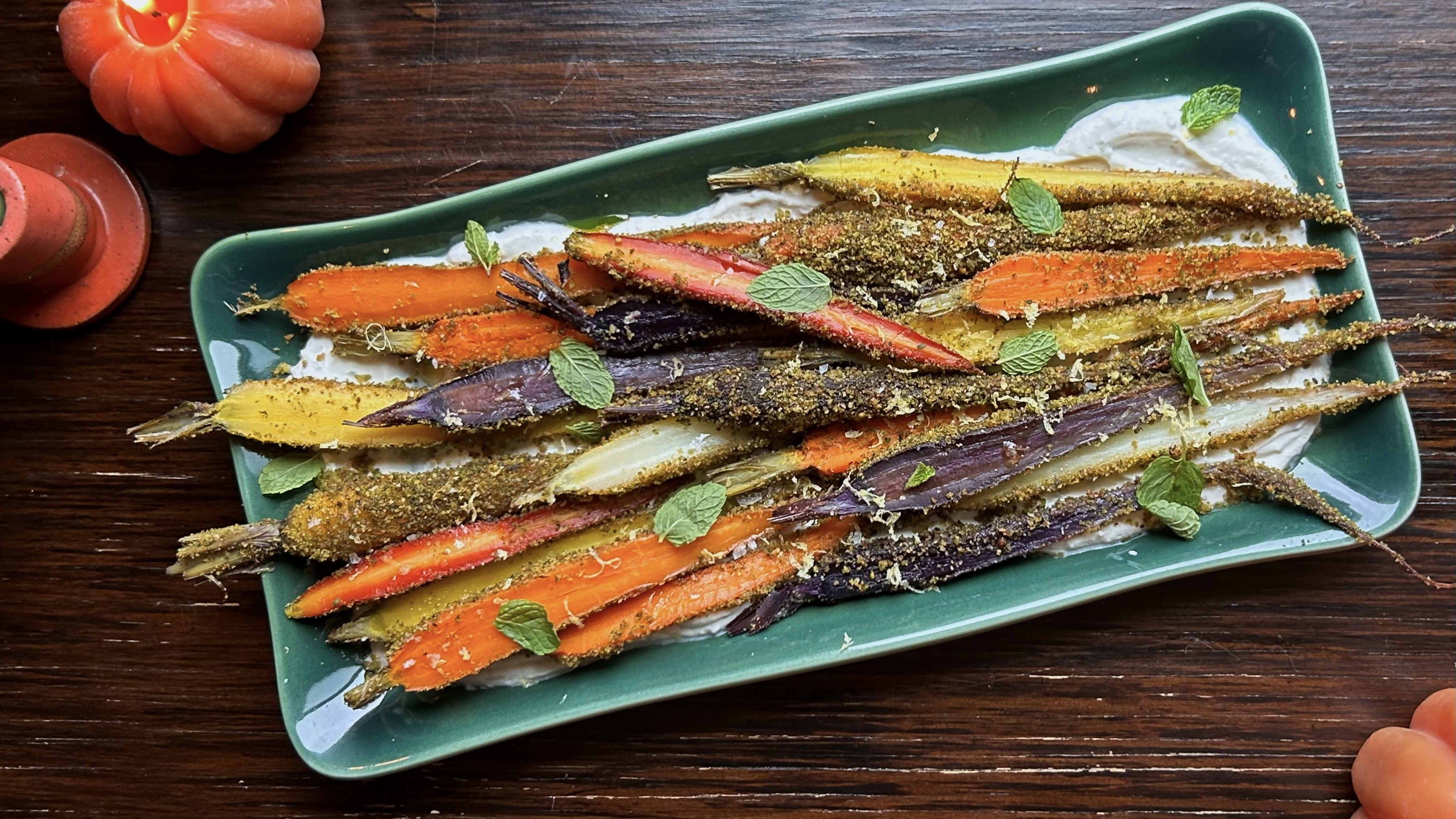 This dish from Ariel of
Cooking with Rel
is all about textures: crunchy breadcrumbs, creamy yogurt and buttery, smooth carrots.
To make vegan, use a vegan yogurt and substitute honey for maple syrup.
Optional: Roast carrots and refrigerate, plus prep the pistachio herb mixture one day before serving.
Serving Size

4

Total Time

1 hour 30 minutes
Ingredients
2 bunches of carrots

Drizzle of olive oil

Salt

Pepper

1/2 teaspoon cumin powder

1/2 cup toasted pistachios (whole)

1 cup breadcrumbs

3 cups herbs of your choice. Ex: 1 cup mint, 1 cup parsley, 1/2 cup carrot tops, 1/2 cup cilantro.

1 cup full fat Greek yogurt (or substitute)

1 clove garlic, grated

1/2 lemon, save for zesting

1/2 tablespoon toasted fennel seed, crushed

1/4 teaspoon coriander

2 tablespoons honey (or substitute)
Directions
Preheat oven to 450°. Trim carrot tops, leaving ½ inch on carrots. Set tops aside for later. Wash carrots and peel skins.

In one layer, place the carrots in the bottom of a large baking dish. Fill with 2 cups boiling water and cover with aluminum foil. Bake for 30 minutes (this serves as a steam bath).

In the meantime, place your toasted pistachios, breadcrumbs and herbs into a blender or food processor. If your breadcrumbs do not contain salt, add ¼ tsp salt. Pulse until the mixture is just a bit coarser than sand. Spread flat onto a baking sheet.

In a medium bowl, combine garlic and the juice of half a lemon. Let sit for five minutes to reduce the strong bite of the garlic. Then add the yogurt, crushed fennel seed, coriander, and ½ teaspoon salt. Mix and set aside.

Remove the aluminum foil from the carrots and pour out excess water. Toss carrots with a nice drizzle of olive oil, a pinch of salt, a few grinds of pepper and the cumin powder. Roast uncovered for 20 minutes, checking halfway to turn the carrots onto the other side. They should come out looking caramelized.

Bake the herbed breadcrumbs for 5 minutes, until toasted. Watch closely or they will brown! If prepping the day before, store carrots and spiced yogurt in the fridge (separate containers). Store breadcrumbs in an airtight container at room temperature.

Assemble right before serving or your breadcrumbs will become soggy. Combine 1 teaspoon of hot water into honey and mix. Using a silicone brush, brush the honey onto both sides of the carrots and then carefully roll them in the breadcrumbs, pressing down on each side. Remove the carrots and slice longways. Smear spiced yogurt on a platter and layer the carrots on top. Finish with lemon zest, and olive oil.