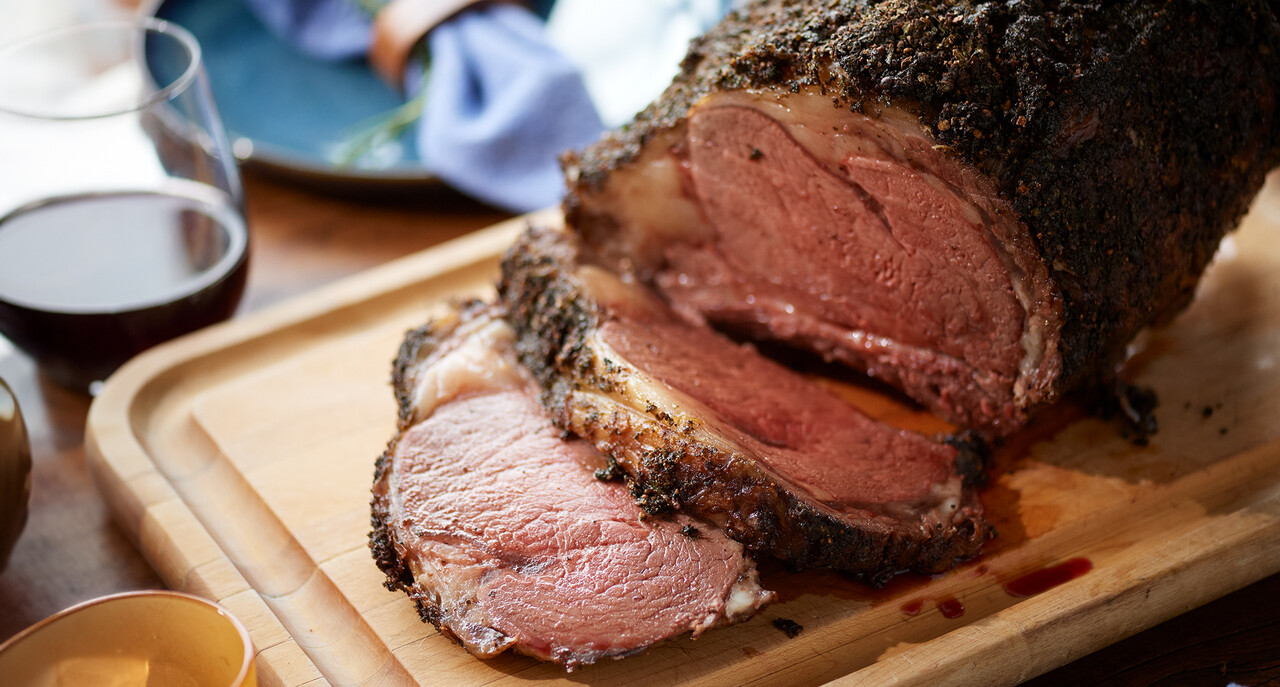 This slow-roasted prime rib roast recipe with horseradish cream comes from our long-time local partners at Country Natural Beef.
Serving Size

12

Total Time

3 hours - 4 hours 5 minutes
Ingredients
Prime Rib Roast
1 5-rib bone-in standing rib roast (about 12-15 lb)

2 1/2 tablespoons kosher salt

1 tablespoon freshly ground black pepper

Several sprigs of fresh rosemary for resting
Horseradish Cream
2 cups crème fraîche (or sour cream)

1/2 cup prepared horseradish

3 tablespoons chopped fresh chives

2 tablespoons fresh lemon juice, plus more to taste

1 teaspoon kosher salt, plus more to taste
Directions
Place the prime rib in a roasting pan bone-side down and season it with salt and pepper. Refrigerate it, uncovered, for at least 12 and up to 48 hours. Allow the prime rib to come to room temperature (about 2-3 hours) before roasting.

Preheat the oven to 450˚F.

Roast the prime rib, bone-side down, for 25 minutes. Decrease the heat to 300˚F and continue roasting until the center of the thickest part of the meat registers 115˚F on an instant-read thermometer for rare or 125˚F for medium-rare. It will likely take 2 ½ - 3 ½ hours to roast to temp, but after about 2 hours of roasting, start checking periodically for doneness. The exact cooking time will depend on many factors, such as the weight of your roast, the temperature of the beef before it went in, and the functionality of your oven.

Once the roast has reached your desired temperature, transfer it to a large cutting board and place rosemary sprigs underneath and on top. Wrap the whole roast loosely with foil and allow it to rest for 20 to 30 minutes before carving.

For the horseradish cream: In a small bowl, whisk together the crème fraîche (or sour cream), horseradish, chives, lemon juice, and salt. Taste and add more lemon juice or salt, if desired.

Note: This recipe results in an undercooked meat product. Consuming raw or undercooked meats, poultry, seafood, shellfish, or eggs may increase your risk of foodborne illness, especially if you have certain medical conditions.