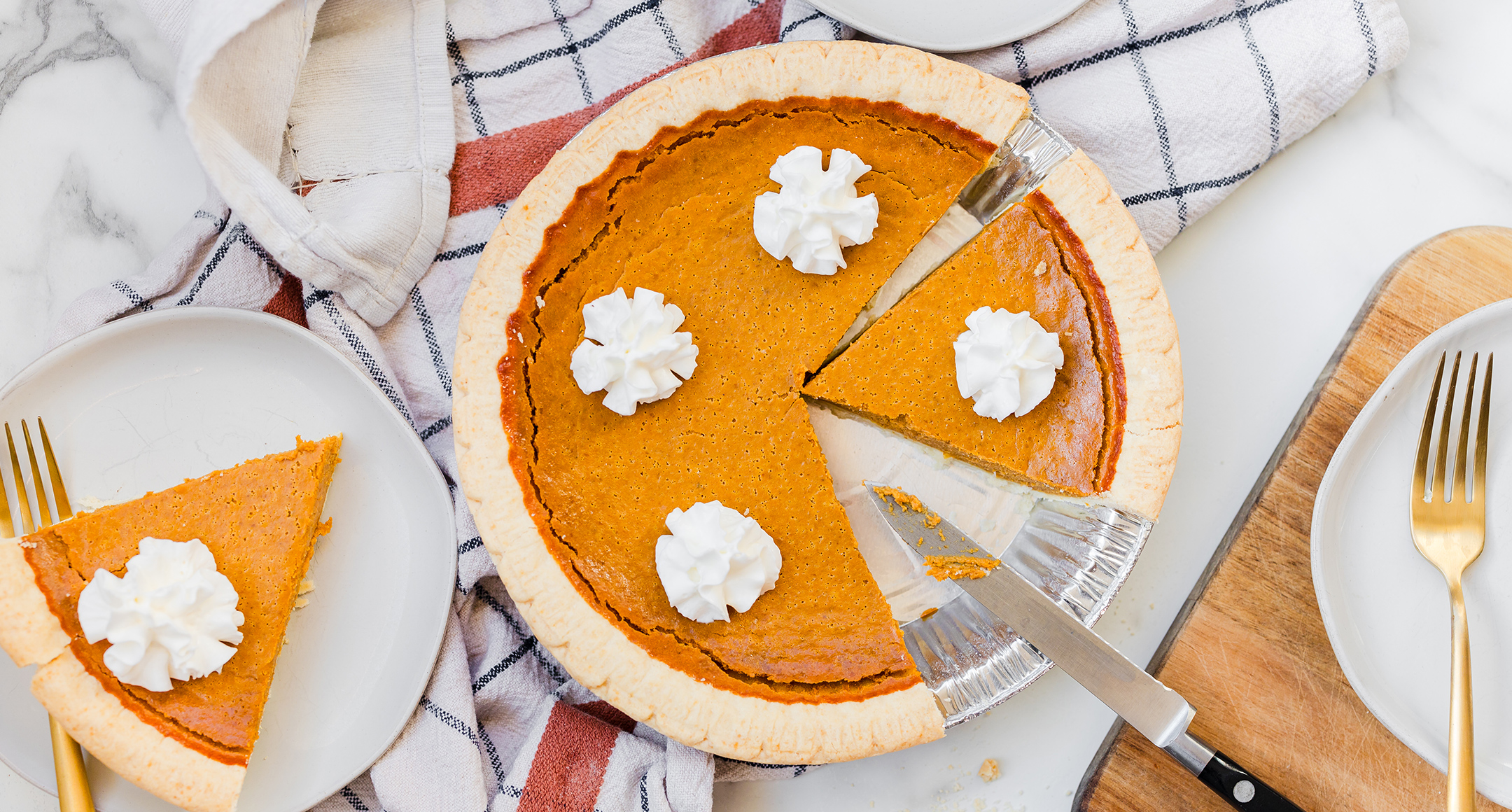 Don your apron and create a made-from-scratch masterpiece one ingredient at a time with this classic pumpkin pie filling recipe.
Serving Size

8

Total Time

1 hour
Ingredients
1 2-3 lb pie pumpkin, roasted and prepared, yielding 2 cups (see instructions below)

1 cup evaporated milk

2 eggs, beaten

1 teaspoon vanilla extract

3/4 cup brown sugar

1 teaspoon ground cinnamon

1/2 teaspoon ground ginger

1/4 teaspoon nutmeg

1/8 teaspoon ground cloves

1/2 teaspoon kosher salt

1 9" frozen pie shell, prebaked for 10 minutes at 350°F
Directions
Preheat oven to 375°F. Cut pumpkin in half, scoop out the seeds (more on this later) and place pumpkin cut side down on a baking sheet. Roast for 45-70 minutes or until flesh is soft. Remove from oven and let cool. 

Scoop flesh into a medium-sized bowl and discard skin. Measure out 2 cups of pumpkin and set aside the remainder to use in another recipe. Pumpkin can be prepared ahead of time, covered, and refrigerated for up to three days. 

Lower oven to 350°F. In a large mixing bowl, combine 2 cups of prepared pumpkin, milk, eggs, and vanilla extract. Mix thoroughly with a whisk, mixer, or immersion blender. Add brown sugar, spices, and salt and blend until smooth. Pour filling into your pre-baked pie shell. Place on a rimmed baking sheet in the middle of the oven. 

Bake for 45 minutes or until the filling is set but still slightly jiggly in the middle. 

Let the pie cool on a baking rack for an hour, then place it in the refrigerator until ready to serve. 

Optional: The seeds removed from the pumpkin can be a delicious snack! Simply soak the seeds in water, drain, then roast on a rimmed baking sheet with a little olive oil and Kosher salt.