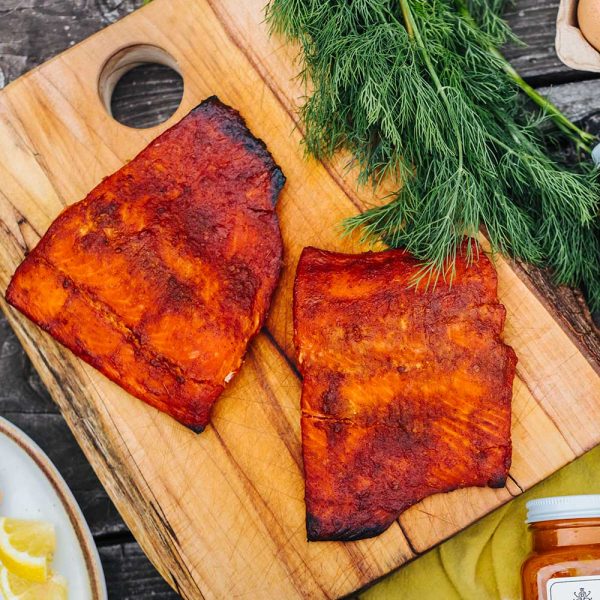 When salmon hits peak-season perfection in the Pacific Northwest, grilling and baking are often go-to cooking techniques. But, for adventurous home cooks looking to level up their skillset, we recommend one of our favorite preparations: smoked. No smoker? No problem! Smoked salmon is easy to hack at home with a standard grill or oven. The finished product can be used on grazing boards, as a salad topper or as an ingredient in seasonal recipes. We teamed up with our long-time local vendor partner Sarah Marshall, owner of Marshall's Haute Sauce, to make a Smoker-Free Smoked Salmon using her signature Smoked Habanero Barbeque hot sauce for an added layer of flavor.
Serving Size

4

Total Time

3 hours
Ingredients
1 pound fresh salmon fillet

2 tablespoons sea salt

2 tablespoons light brown sugar

3 tablespoons Marshall's Haute Sauce - Smoked Habanero Barbeque

1/4 cup cherry wood chips

2 quarter sheet pans, fitted with 1 rack
Directions
Rinse the salmon, pat dry, and remove the pin bones. Cut fillet into two equal 8 ounce pieces.

Mix the salt and sugar together on a rimmed plate. Rub the salmon on all sides with the mixture until no cure remains on the plate. Cover and place into the refrigerator for 30 minutes.

After the salmon chills, rinse the cure from the salmon and wrap in paper towels to dry. Let sit, wrapped, for 10 minutes.

Pre-heat an oven or grill to 200°F. Line the sheet pans with foil; leave excess foil overlapping the edges of the pans. Lightly oil the rack.

In a small skillet, over high heat, toss the wood chips until they begin to smoke, about 3 minutes.

Place the wood chips in the center of the sheet pan. Place the wire rack over the wood chips. Put a piece of salmon, skin-side down, into each side of the rack. Paint each piece of salmon with Smoked Habanero Barbeque sauce. Reserve 1 tablespoon.

Place the other sheet pan upside down over the top of the salmon, creating a lid. Fold the foil over the edges to create a seal. Place in the center rack of the oven, or on the grill. Cook undisturbed for 2 hours.

Carefully open the pan, letting the steam escape. Turn the oven to broil, or grill to high. Brush off any moisture released from the salmon, paint the fish with the remaining sauce. Once broiler is heated, place the pan back in the oven for 6-8 minutes, until woodchips begin to smoke, and sauce is caramelized.

Finished smoked salmon can be stored in the refrigerator for 1 week, or vacuum sealed and stored in the refrigerator for 2 months.