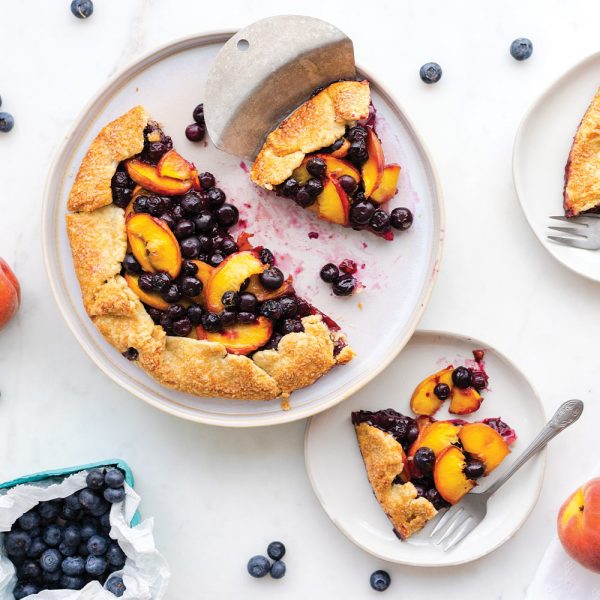 Galettes are one of the easiest ways to bake up the delicious summer fruit that is flourishing right now. Two of our favorites: Organic Blueberries from Springbank Farm and Maryhill Peaches from Gunkel Orchards. Bursting blueberries and poppin' peaches nestle together in an undeniably tender and flaky all butter crust. The jammy filling against the sugar sprinkled, buttery crust is a harmonious balance of flavor and texture. This simple, summer inspired dessert is a snapshot of the season that captures the finest fruit in its best and brightest light.
Ingredients
1 Basic All Butter Pie Dough disk (recipe makes 2 disks but you only need 1 for this galette)

1 pint fresh blueberries (2 cups), rinsed

2 large peaches (about 1 ½ cups), rinsed and thinly sliced

1/3 cup granulated sugar

1 tablespoon lemon zest

1 tablespoon tapioca flour or cornstarch

1 tablespoon unsalted butter, cold and cut into small cubes

1 large egg, lightly beaten with 1 teaspoon of water

1 tablespoon Turbinado or sparkling sugar
Directions
Remove

Basic All Butter Pie Dough

disk from refrigerator and set on the counter at room temperature to soften while you prepare the filling.

Preheat oven to 375°F.

Rinse and drain blueberries and peaches. Place rinsed blueberries and thinly sliced peaches in a large bowl, top with sugar and lemon zest.

Gently stir together to combine. Allow to sit for 15 minutes so the juices begin to release from the fruit.

Add the tapioca flour and gently mix until fully absorbed into the juices.

Once the dough has softened just enough to leave a thumbprint indention in the top, it's ready to roll. Lay out a sheet of parchment paper or a silicone baking mat and dust lightly with flour. Use a rolling pin to roll out the dough disk into a 12"-13", ?" - ¼" thick, round directly onto the prepared parchment paper or mat.

Brush the surface of the dough rolled round lightly with the beaten egg wash. Use a slotted spoon to scoop the blueberries and peaches out of the bowl, allowing most of the juices to drip off before transferring the fruit to the prepared dough. Discard any liquid remaining in the bowl.

Arrange fruit on top, leaving a 1 ½"-2" border. Carefully lift and fold the edge up and over the filling, allowing the dough to naturally pleat at 2" intervals as you fold. It should pleat about 12 times as you work your way around.

With the galette on the parchment paper, lift and slide the parchment sheet onto a rimmed baking sheet. If you really want to ensure your galette holds its shape, especially on hot summer days, place the galette (while on the baking sheet) in your freezer for at least 15-20 minutes until it firms up. Then bake directly from the freezer. *You can also freeze the dough at the stage to bake at a later date. Just keep in mind it may take a few additional minutes to bake through.

Lightly brush the egg wash mixture over the exposed dough edge and sprinkle liberally with turbinado or sparkling sugar. Dot the filling with small, cold cubes of butter.

Bake for 40-50 minutes, rotating the pan halfway through. The crust should be a warm golden brown and the fruit should be soft and jammy.

Allow to cool, then slice into wedges to serve. Tastes great with fresh whipped cream or à la mode.

For additional recipe notes and pro tips, visit the original recipe

here

.
Tags