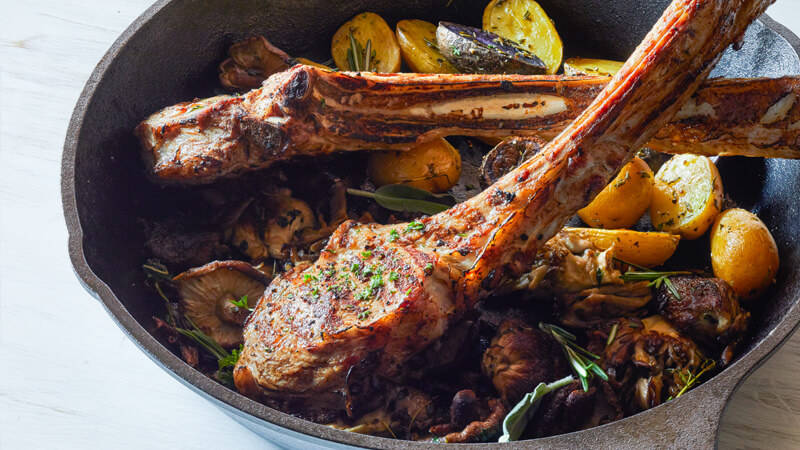 Don't throw away the bones! Make the most of your steaks by turning the bones into a healthy bone broth. A strong source of amino acids, bone broth has been linked to improved digestion, gut health, joint function, immunity, and more. Whether you have a bunch of Tomahawk leftovers or you've saved up some frozen bones, a hearty soup is always just a simmer away. Then, you can use your bone broth base for a wide variety of recipes with a huge range of health benefits. 
Ingredients
4 pounds beef bones (marrow bones, bones with meat, or a mix of the two)

2 medium unpeeled carrots, cut into 2-inch pieces

1 medium leek, ends trimmed, and cut into 2-inch pieces

1 medium onion, unpeeled and quartered

1 garlic head, halved

2 celery stalks, cut into 2-inch pieces

2 bay leaves

2 tablespoons black peppercorns

1 tablespoon apple cider vinegar
Directions
Preheat the oven to 450°F.

Wash all produce. Place beef bones, carrots, leek, onion, and garlic on a roasting pan. Roast for 40 minutes, tossing bones and vegetables once halfway through.

Fill a large stockpot with 12 cups of water. Add celery, peppercorns, bay leaves, and vinegar. Scrape bones and vegetables into the pot. Add water to cover ingredients if needed.

Cover the pot and bring to a low simmer. Open the lid slightly, and skim the foam occasionally for the next 8-16 hours. The longer you simmer, the richer the flavor. A slow cooker works just as well.

Remove pot from heat and let cool. Strain broth with a fine-mesh sieve, tossing out the bones and vegetables.

Store in a fridge for up to 5 days or the freezer for up to 6 months.