We're all about strong partnerships with organizations that support food access and equity, education, and environmental action and justice.
Since day one, we've valued and cultivated long-term partnerships with local organizations devoted to social responsibility. We donate to, sponsor, volunteer with, and show up for our partners who support food access and equity. We're all in this together.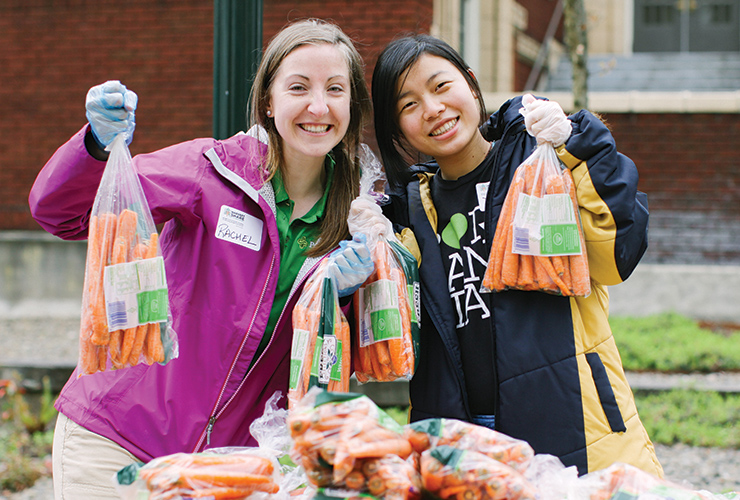 Community Donations
We donate 10% of our after-tax profits back into the communities we serve.
Bag it Forward
Every time you bring in a reusable bag to one of our stores, 5 cents goes to local nonprofits we support and believe in.
Cans for Kids
Each redeemable used can or bottle you bring into your store becomes a 10-cent donation right into the pocket of that neighborhood's school foundation.
Community Hunger Relief - Food Access & Equity Starts with Us
Neighbors step up and support our deeply-funded commitment to food access and equity through at-register donations to community hunger relief partners. Their generous contributions support these 10 vital local organizations:
Blanchet House

Provides support to Portland's houseless population with food, clothing, shelter and medical assistance.

Centro Cultural 

A home for Latino cultures, serving the needs of our diverse community by promoting personal growth and empowerment.

Clackamas Service Center 

An inclusive community center for individuals and families seeking food relief and resources for improved health, dignity and stability. 

Equitable Giving Circle 

Builds immediate and increased equity throughout Portland's BIPOC communities through a combination of fund development and network building opportunities. 

Feed The Mass 

Founded on the belief that everyone deserves access to reliable, high-quality nutrition, while seeking to enrich and connect our community through food. 

Feed'em Freedom Foundation 

Creates educational pipelines to agriculture for Black & BIPOC youth through Land Stewardship & Regional Food Security response. 

Growing Gardens

Uses the experience of growing food in schools, backyards and correctional facilities to cultivate healthy and equitable communities. 

HomePlate Youth Services 

Supports the positive development of youth experiencing homelessness or housing instability through community building, education and empowerment.

Oregon Food Bank 

Strives to eliminate hunger and its root causes by working across systems and centering racial and social justice in everything they do.

Share 

Pursues a stronger community by building relationships, advocating for equitable access to housing and food stability, while empowering every individual to grow and thrive.